Bracknell Ice Skating Club Newsletter - November 2003
Three Of The Best!
Many parents fear that their children's education will suffer if they devote too much time to a sport or hobby.
BISC News, however, has often reported how skating has helped club members in other aspects of their lives-from improving their balance and coordination to reducing the effects of dyslexia or generally improving their schoolwork.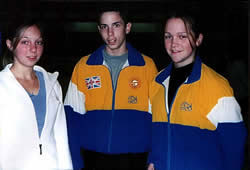 Last month Ice Link, the NISA newsletter, featured Chelmsford skater Melissa Maczka, who had done particularly well in her GCSEs while competing at championship level. In fact she passed 11 GCSEs -10A* grades and 1A.
Bracknell has three high level skaters who have also excelled at school while competing.
In summer 2002, the same school year she competed in the British Junior Ladies Championship, Sarah Johnson, 18, who has passed her Level 10 (Junior Competitive) figure skating tests, passed 10 GCSEs-9A* and 1A grades. This year, while again qualifying for the British Junior Championship, she passed AS Levels in biology, chemistry, maths and geography - all with A grades - and at the end of this school year will take the same four subjects at A Level plus AS Levels in critical thinking and further maths. She also plays violin at grade 7 standard.
This year Taryn Dennison, 17, pass-ed 10 GCSEs - 6A*, 3A and 1B grades - and gained a distinction in a double GNVQ for IT. She is now studying AS Levels in English literature, maths, PE, and psychology. She represented her school at county level in netball and cricket and was part of the Windsor and Maidenhead Borough team representing England in the 2002 International Twin Towns sport festival. She has passed her Level 8 figure skating tests and is about to take Level 6 and 7 compulsory dance tests.
And it's not just a girl thing. Simon Waller, 16, is about to take his Senior Competitive Technical Test. He competed in December 2002 in the British Primary Men's Championship and at Easter in his first solo international in Luxembourg.
This summer he passed 12 GCSEs -3A*, 6A and 3B grades - and gained his Junior Sports Leadership Award. He is now taking AS Levels in English, biology, chemistry, psychology, PE and general studies, and has started to train as a skating coach. He played hockey and cricket for his school and is a Grade 5 pianist.
One person who is not at all surprised at their achievements is Bracknell's head coach, Jon Bonny, who coaches all three.
"Coaches have long known that skating can, and does, help children do well at school. To be a good skater, you have to be disciplined, focused, organised and able to concentrate well. Skaters carry those attributes over into other parts of their lives, particularly their education," he said.
Skating For All Jeopardised By Lost Ice
Another successful year in which BISC had maintained its strong position in inter-club competitions was reported by chairman, Roy Welham, at the club's AGM on October 22.
Although the average age of club members had fallen, individual members had won many medals at Opens around the country. Freeskaters Sarah Johnson and Simon Waller had put themselves at the top of British skating and the future looked really bright for ice dancers Kira Geil and Andrew Smykowski.
Unfortunately the synchro teams had lost most of their experienced skaters due to age but a number of very keen new skaters had taken up synchro and the future already looked better.
The club now faced the problem of lost ice time which would make it hard for it to maintain Skating For All. The committee would have to ensure that the remaining time was divided fairly among the membership and that all members had equal opportunity, he said.
Champion Families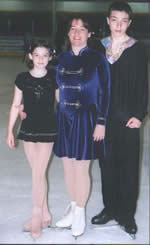 Three club members have continued a trend set by two other BISC members who became the first parent and child to compete in British championships in the same year.
Last year Christine Piggott, the club's trophies secretary, won silver in a dance class at the British Adult Championships just weeks after her daughter, Fiona, then aged 11, came fifth in the British Novice Solo Ice Dance Championship.
Now Gail Tudor, the club's membership secretary, has won bronze in the Level 4 and under dance class at the adult championships four months after her children, Seren and Luc, then aged 11 and 14, came 6th in the British Novice Pairs Championship- the first "homegrown" BISC skaters to compete in the event.
Page
1
-
2
-
3
-
4
- Click the number to go to the page