Bracknell Ice Skating Club Newsletter - November 2003
Skaters Have (Nearly) All The Right Moves
Field moves may have a reputation for being one of the least popular parts of figure skating but that doesn't seem to be the case with BISC members.
They showed that field moves can be fun when 35 of them competed in the reinstated Field and Dance Moves competition on November 5.
The competition was last held in September 2000 when there were 11 entries in both sections. Sadly this time there were only two entries in the dance moves contest.
As with other club competitions, the elements were geared to the abilities of skaters at different test levels, with the highest field moves class having to skate a pattern of moves devised by themselves which were judged for their innovation as well as execution.
RESULTS
Field Moves, under Level 1 (FI and FO curves, and backwards check position): Eleanore Nicholls, 1st, Luke op den Brouw, 2nd, Yasmin Bell, 3rd, Amy Barnes, 4th, Kristian Callaghan, 5th, Melissa Dron, 6th, Sophie Torrington, 7th, Eleanor Hetebrij, 8th, Olivia Wessendorf, 9th, Kali Turner, 10th, Rhiannan Bailey, 11th, Harvey Clarke, 12th.
Novice (FI curves, and BO cross str- okes): James Bailey, 1st, Holly Jordan, 2nd, Hannah Connor, 3rd, Emily Kellas, 4th, Sam Heathcote, 5th.
Prelim (progressive serpentine FO 3- turns, and circular 3-turns with mohawks): Hannah Hetebrij, 1st, Rachel Connelly, 2nd, Rebecca Brenikov, 3rd, Elinor Bowes, 4th, Charlotte Bailey, 5th, Olivia Clarke, 6th.
Inter-Bronze (circular 3-turns and double 3-turns, and double mohawk serpentine step): David Truby, 1st, Olivia Dick, 2nd, Laura Connor, 3rd, Rachel Kellas, 4th, Jessica Ledermann, 5th.
Bronze & over (BO change of edge into double 3-turns, and continuous straight line choctaws): Fiona Piggott, 1st, Cara Rogers, 2nd;
Inter-Silver and over (own pattern) Sarah Johnson, 1st, Claire Miller, 2nd, Charlotte Hester, 3rd, Leah Rogers, 4th, Chris Kerr, 5th.
Dance Moves, under Level 3 (con- tinuous FO cross rolls, and FI curves) Hayley Salmon, 1st.
under Level 6 (progressive FO 3-turns, and double mohawk serpentine sequence): Jen Truby, 1st.
Meet George - The New JNLC Manager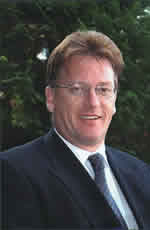 There's a new man in charge of the John Nike Leisuresport Complex … Scottish-born George Black. He comes with 16 years experience of leisure management which includes running The North Pier in Blackpool as well as a variety of bingo clubs and night clubs across the country. His most recent job involved opening health and fitness clubs in the North West.
He is looking forward to the challenge of learning a new sector and making good use of his lifetime of experience within the service and leisure industry. His first challenge is to learn to skate again - he has not been on the ice since Blackpool in 19?? - and to learn the intricacies of ice management.
"I am very much looking forward to taking the JNLC forward and to working with BISC," he said. "I have received a very warm welcome and feel that there is a great deal of goodwill for me to succeed as complex general manager."
George, who replaces Patrick Renn, has responsibility for the running of the facility including the ice rink, ski slope, bars and catering. His management team includes Tim Newton, who reports directly as rink manager, Matt Gamble as ski slope manager, and Dave Underwood as front of house manager. A new catering manager will be appointed soon. George is also assisted behind the scenes by maintenance manager Dennis Jones who was appointed in the summer.
"There have been some changes to the management team in the last 12 months," George said. "While change is always difficult, it provides fresh impetus and a new viewpoint. I look forward to the management team developing with a blend of new blood and the backbone of experience."
Page
1
-
2
-
3
-
4
- Click the number to go to the page