Bracknell Ice Skating Club Newsletter - October 2004
Adults' Champion Day Out Win 3 Medals
Seven older BISC members competed in the third British Adult Ice Skating Championships at iceSheffield on October 3 and won three medals - one of each colour.
The gold, won by Viv Coene, was Bracknell's second in two years, Carol Stedham having won last year's elementary solo dance. Due to Carol's absence, the number of Bracknell competitors was one less than last year, although one skater competed in both free and dance. It meant Bracknell once again had one of the largest contingents.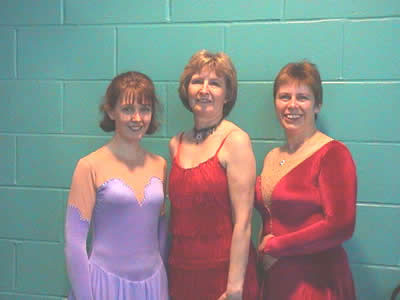 * (l-r): Rachel Jarvis, Viv Coene and Sue Truby.
There was some good competition although it was hard to compare like with like in dance because there were two age categories instead of three. Unlike the Primary, Junior and Senior Championships in free skating and dance, where skaters have to reach high standards (equivalent to at least Level 9) by set ages, and take part in qualifying competitions, the adult championships are open to any skater over 21 and each discipline is divided by age and ability.
Four of the Bracknell skaters competed in free skating. Three were in the elementary section (Level 2 and under) where Nicki Torrington skated a clean programme and just missed winning bronze. Lesley Brenikov was delighted to have her best skate yet to finish 7th of 9 in age category 2 while Val Toeman came 6th of 6 in age category 3. She was disappointed with her performance, having previously beaten some of her competitors.
Rachel Jarvis had moved up a level in free skating and competed at intermediate (Levels 3-6) where she was particularly pleased to win bronze in age category 2, beating two of the five entrants.
She then competed with Gail Tudor in the elementary (Level 4 and under) solo dance, age category 1, where they found themselves against some younger skaters who did particularly well.
Rachel came 3rd in the Golden Skaters Waltz but did not do so well in the Riverside Rhumba while Gail had a disappointing skate and came last in both. She did better in the free dance, coming 5th, while Rachel came 6th. As the free dance counted for 60% of the marks, it placed Rachel 7th overall and Gail 8th but both were pleased to have beaten the only male entrant.
The elementary solo dance (Level 4 and under), age category 2, was contested by Viv Coene and Sue Truby plus another entrant.
Sue beat Viv for the first time in the Golden Skaters Waltz and also won the Riverside Rhumba with Viv again second. But Sue lost marks in the free dance when she put a foot down in the spin while Viv skated probably her best ever programme to win the free dance and therefore the event.
Although iceSheffield's organisation was once again very good, the event was marred by NISA failing to supply any trophies and there was only one set of medals which had to be handed out and returned at each presentation!
Page
1
-
2
-
3
-
4
- Click the number to go to the page