Bracknell Ice Skating Club Newsletter - January 2004
Synchro Skating Team Champions Again
Bracknell Ice Skating Club's Ice Fusion synchronised skating team has won gold in this year's British Mixed-Age Synchronised Skating Championship. Not only is the club delighted that it has won, but it is thrilled that it has beaten Lee Valley's Team Eclipse. "It's a great result and makes the future of synchro at Bracknell look very bright again," said club chairman, Roy Welham. "We are very proud of all the skaters." Although the club has consistently been one of the best in Britain for synchronised skating since the mid 1990s, Ice Fusion's win is the first since the novice Ice Precise team won gold for the second time in 1999. And Bracknell Ice Skating Club has never won a championship when Lee Valley - originally the "home" of British synchro skating - has had a team in the same section. Bracknell's junior Ice Metrics team (for skaters aged 12-19) and novice Ice Precise (aged up to 15) had won medals in each British Championship in recent years and competed in many internationals including two Junior World Cups. But the synchro section - in common with almost every other club in Britain - has been in decline for the past couple of years partly because most of Bracknell's established skaters had become too old to compete for Ice Metrics, which is now in abeyance, and Ice Precise which failed to skate last year.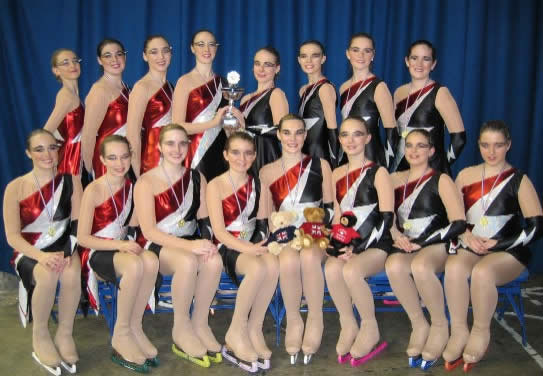 In fact many of the 20 or so teams which were in the championships five years ago, either no longer exist or are unable to meet the championship requirements. Even though the National Ice Skating Association has introduced mixed-age and juvenile sections to try to encourage more skaters to take part, there was a total of only 18 teams, including four adults, in the championships at Nottingham on January 18.

To combat the crisis, the Bracknell club set up a synchro development squad two seasons ago and some of those skaters have now joined the re-established Ice Precise and the new Ice Fusion which includes a few Slough-based skaters.

Bracknell's efforts at rebuilding seemed to be on the right track when Ice Fusion came second, behind Team Eclipse, in a championship qualifying competition in November, and the reborn Ice Precise came fourth.

Both Bracknell teams had increased their number of skaters from the minimum of 12 to 16 since the qualifying event. And both had improved a lot … as the championship results showed.

"Ice Fusion had its best ever skate. They were brilliant and we are really, really proud of them," said David Phillips, one of the Bracknell teams' coaches. "They excelled themselves and not one skater put a foot wrong. The judges were also extremely pleased with their performance."

Lee Valley lost marks when one of its skaters fell and took a long time to regain his place. But Bracknell 's superior programme, skated to a medley of Queen music, beat Lee Valley on both the technical and artistic marks, notching up four first places and one second.

Although Ice Precise, which skated to a Hoe Down medley, had to content itself with being fourth of the four novice teams, all the team skated well and managed to lift its marks from 2.4/2.5 at the qualifier to 3.0/3.1

David added: "A huge thank you must go to everyone involved with the teams including Simon Jenkins, the Slough coach who helped coach Ice Fusion and got them additional ice time at Slough. Now we must look to the future and the further rebuilding of our teams."

Skating for Ice Fusion were Kasia Bielska, Leanne Burling, Alix Carter, Gemma Cross, Rebecca Fraser, Laura Hartley, Lucy Heap, Rachel Heap, Becky Highcock, Laura Hickcock, Sara Holroyd, Charlotte King, Lucie Pitcher, Alison Ryder, Jo Simms and Lyndsey Steere.

Skating for Ice Precise: Amy Barnes, Charlotte Briddon, Gemma Cross, Stephanie Francis, Rebecca Fraser, Laura Hartley, Rachel Heap, Becky Highcock, Laura Highcock, Charlotte King, Katherine Loades-Bannon, Rebecca Loades-Bannon, Susie Race, Alison Ryder, Hayley Salmon and Lyndsey Steere. Reserves: Charlotte Brooke, Kirsty Dever and Amy Morin.
Page
1
-
2
-
3
-
4
- Click the number to go to the page