BISC SYNCHRO SUCCESS - SCOTTISH CHAMPIONSHIPS AND TROPHY D'ECOSSE
Congratulations to our Adult Synchronized Skating team who won gold at the Scottish Championships in Dumfries during the Easter holidays and achieved the highest IJS score out of the two Adult categories consisting of 8 teams. They had a brilliant skate and it was well deserved win for the team captained by Sara Brown (nee Holroyd) which has acquired four new members since taking silver at the British Championships in November. The U18 Preliminary team had a extremely encouraging practice session but unfortunately had three falls during their routine which lowered their final element score putting them in 9th place. However the U18s who have been together less than a year, were delighted to be awarded a Certificate of Merit for their Level 2 Circle element and to achieve IJS 'plus' scores for their Level 2 Wheel.
The Scottish Championships and Club International is the largest Synchronised skating event held in the UK to date. The competition was host to 47 teams from both Great Britain and Europe and held at the newly refurbished Dumfries Ice Bowl with the welcome and draw taking place on ice for all teams to the musical accompaniment of the Dumfries and Galloway Constabulary Pipe Band!
A great time was had by both teams who look forward to returning to Dumfries next year! Recruitment for new adult and U18 Synchro members for the forthcoming season is now taking place - further information can be found on the Synchro notice board rink side.
(Action and podium shots courtesy of - Ling Gillespie)
| | |
| --- | --- |
| Adults: | U18s: |
| Anna Albert | Elena Bramley |
| Anna Whitton | Phoebe Carr |
| Sara Brown | Katie Clamp |
| Tara Chan | Becky Gendall |
| Penny Clarke | Annie Greenfield |
| Vivienne Coene | Georgia Johnson |
| Marina Demarchuk | Rachel Kearsley |
| Marta Hlousova | Annabelle Lewiston |
| Beverley Hull | Mary Littlehales |
| Rachel Jarvis | Hannah McGivern |
| Jacqueline Painter | Phoebe Nelms |
| Jennifer Nushi | Olivia Nisbet |
| Karen Stanley | Rebecca Purnell |
| Rachel Thomas | Zoe Purnell |
| Nicki Torrington | Lauren Roberts |
| Gail Tudor | Eloise Simmons |
| Michelle Usher | Sirena Asia Hernandez Smith |
| | Alex Stanley |
| | Felicity Urquhart |
| | Saskia Wilson |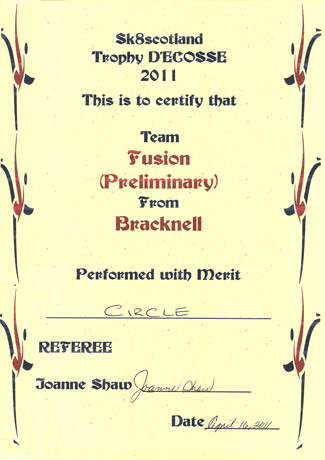 COMPETITON AND BABY NEWS!!
Bracknell Fusion Adults were delighted to take the Scottish Championship crown at their first attempt with a seamless programme and no falls! Coached by David Phillips and with captain/manager Sara Brown at the helm since its formation in summer 2009, the adult team won gold at the British Championships in February 2010 and were silver medallists in November 2010.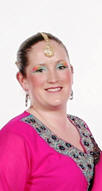 The victory was even more significant as it was touch and go as to whether or not Sara would be able to skate in Dumfries as she was flying to Malta in the early hours of Sunday morning from Gatwick and with the added complication of expecting her first baby in October the team were fearful that their experienced captain would be absent. However Sara is made of strong stuff and as a former World Synchronized skating competitor at both Junior and Senior level who started skating at 5 and former captain of several teams, she was determined to skate.
Fortunately the adult competition took place on the Saturday but due to the long taxi ride to Glasgow Airport to catch her flight to London Sara was unable to celebrate with the team on the podium for the presentations and photos. Thankfully all arrangements went according to plan and she and her husband George made it safely to their holiday destination.
Sara who is 24 and a teacher has now stopped skating in the team until her baby is born but will continue to manage the Adult team. "Being captain of Fusion has been really exciting; the team are dedicated and hardworking. I have enjoyed leading them to success. It will be a shame to step off the ice for a few months but I will be back before you know it!"
Page
1
-
2
- Click the number to go to the page