Bracknell Ice Skating Club Newsletter - January 2005
Bro and Sis Help Make It a Truby Special Night
Trying to ensure that BISC uses a fair and transparent method for calculating the winners of its improvers trophies meant that presentations of the 2003-04 awards were postponed from the club's gala night in September until the after-panto party on December 19.

The new system for determining the free skating and dance improvers takes into account test levels as well as skaters' places in relevant club competitions.

The trophy for most improved free skater was awarded to Hannah Connor, 10, with David Truby, 14, as runnerup. Hannah was 1st of 7 in the Garner Trophy (under Level 2) in 2003, and 2nd of 7 in the Bonny Cup (under Level 4) for girls in 2004. She was 5th of 6 in Level 2/3 SSJ in 2003 and 3rd of 10 in Level 2/3 SSJ in 2004. David was 1st of 1 in the Bonny Cup for boys in 2003 and 1st of 1 in the Novice Cup (under Level 6) for boys in 2004. He didn't compete in SSJ in 2003 because of a toe operation.

The improvers trophy for dance was awarded to Hayley Salmon, 9, with Jen Truby, 15, as runner-up. Hayley was 4th of 4 in the under Level 2 class in July 2003, 3rd of 10 in the same class in February 2004, and 1st of 3 in the Novice class in July 2004. Jen was 7th of 8 in the junior class in July 2003, and 2nd of 6 in the same class in February 2004. She did not compete in July 2004.

The new trophy for the most improved synchro skater was also awarded to Hayley Salmon with Olivia Wessendorf, 12, as runner-up. They were selected by the synchro coaches, David Phillips and Lucine Chakmakjian. The presentations were made just after Jen and David's mum, Sue Truby, had been awarded the Roy Albrecht Trophy - presented annually, in memory of a former club chairman, for endeavour on the ice or for services to the club or pantomime by an adult.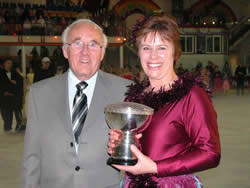 Sue started skating in December 2000 and, coached by Marcin Glowacki, has passed Level 2 compulsory dance plus Level 1 dance moves, free dance and variation dance, and is waiting for a date to do the Level 3 compulsory. She has entered several club competitions and Opens as well as the British Adult Championships and won a silver championship medal in 2004, three golds at Bracknell Adult Open in 2003, and won the drawn partners with Stephen Hoare at the Bracknell Adult Open in 2002.

She hasn't broken anything yet but did chip a knee cap! Sue has served on the committee since September 2001 and is one of the hardest working members. After sharing the membership secretary's role with Gail Tudor, she took over as competitions secretary after the Opens in 2003 and has revamped the club's competitions agenda. She has also helped with pantomime costumes for two years.

"I thank everyone that nominated or voted for me. I have to say that I wouldn't have been able to be so active in the club without the support and forbearance of my family!"
Page 1 - 2 - 3 - 4 - Click the number to go to the page