Bracknell Ice Skating Club Newsletter - December 2003
BISCettes
Test successes
Congratulations to the following BISC members who passed NISA dance tests on November 18:
Olivia Dick - Levels 4 and 5 compulsory dance and Level 2 variation;
Jen Truby - Level 6 compulsory, Level 2 variation and Levels 5 and 6 free dance;
Taryn Dennison, Lauren Francis and Leah Rogers - Levels 6 and 7 compulsory dance and Level 2 variation;
Michelle Bannister - Levels 6 and 7 compulsory dance, Level 2 variation and Levels 5-7 free dance;
Southern League
The club has decided to pull out of the Southern Free Skating League but is considering organising its own inter-club competitions. The decision was made partly because of the cost and partly because winning now places as much emphasis on choosing which classes to enter as it does on skating ability. The competition, which has three rounds at different rinks each year plus the Hot Ice artistic competition, originally had three classes for girls and a boys' under bronze class. The number of classes has increased although only four skaters still compete in each round. The number of clubs taking part has slumped, pushing up the cost charged to each club which enters. BISC's committee decided the money would be better spent in other ways even though. It will still enter the National Team Challenge.
Team Selection
The selection of skaters to represent BISC in inter-club events next year will be based on recommendations by a panel of five committee members. A skate-off may also be held.
Nike trust fund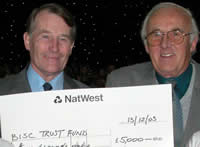 The committee has set up a working party to consider how the money in the trust fund being set up by club president, John Nike, might be spent. Although Mr Nike announced the formation of the trust at last year's pantomime, and donated a further £5000 at this year's show, very little is known about how the money will be allocated although Mr Nike indicated that the aim is to help create champions. The working party will draw up a shortlist of ideas for the committee to consider so that the club's views can be put to the trust.
Life members
The committee has offered honorary life membership to Ted and Joy Mills for their services to the club over many years. Ted frequently judges club competitions and Joy helps at the club's Open competitions.
Lost salver
Does anyone know the whereabouts of the club's Mike Smith Field Moves Salver which was last awarded in 2000. If you know who has the trophy, please call Christine Piggott on 01276 36462 or leave a note for her at the club table or rink reception.
Stolen boots
If you are offered a pair of secondhand skates, please check they are not those Lorraine Bailey had stolen from her car. Her pair of white, size 5 Belati boots had a blue cross marked inside on the ankle, and Coronation Ace blades.
200 Club
The winners of the November 200 Club draw were Paul Watson (£38) and Mrs B Rogers (£9). The December draw prizes will be £75 and £20. The venture has raised £250 for the club this year. Shares for next year's 200 Club are now on sale. See noticeboard for details.
Have you paid?
Don't forget that anyone who skates on club ice on Wednesdays must pay at reception for each part of the session they skate on-ie, 6.15-6.45pm, 6.45-7.30pm and 7.30-8pm.
Tickets must be handed to the duty committee member at the gate before going on the ice at the start of each session.
Copies of BISC News with colour photographs are now available, priced £1. Members can still get black and white copies free as part of their membership.
Diary Dates
JANUARY 2004:
10: Sale of secondhand skates, clothes, etc Rinkside, 10:30am
12: Regional tests, Romford
12: Regional dance tests, Nottingham
13; Regional tests, Coventry
19-25: Four Continents Championships, Hamilton, Canada.
25: British Synchronised Skating Championships
28: BISC Artistic Competition 6:15pm

FEBRUARY:
2-8: European Championships, Budapest, Hungary.
TBC: Regional tests Dundee
13-14: British Novice Championships, Sheffield
25: Bristol Open

MARCH:
1: Regional tests Milton Keynes
1-7: Junior World Championships, The Hague, Holland.
8-9: Bradford Open
8-9: Romford Open
11-14: World Junior Synchro Cup, Milan, Italy
13-14: Magnum Open. 22-28: World Championships, Dortmund, Germany.

APRIL:
1-4: World Synchro Championships, Zagreb, Croatia
TBC: Regional Tests, Swindon
19-23: Bracknell Open-Solo Ice Dance (19th), free (20th-23rd).
24-25: Kyle Open
26-28: Streatham Open

May:
10-11: Lea Valley Open.

JUNE:
2-4: Blackpool Open
25-26: Bracknell Adult Open (free and artistic 25th, dance 26th).

JULY:
5-6: Guildford Open
24-25: British Solo Ice Dance Championships.


BISC News can only include details about how members are doing if it hears from them. Please make sure you keep the club informed by telling publicity officer, Scott Waller, about your achievements. You can do this by talking to Scott at the rink or by leaving a note for her either at the club table or rink reception.

Bracknell Ice Skating Club supports SKATING FOR ALL

Page
1
-
2
-
3
-
4
- Click the number to go to the page