Bracknell Ice Skating Club Newsletter - December 2003
Ice Dancers Win Two Bronze Medals
The club's two top dance couples both won bronze medals at the British Championships earlier this month. But the club's only free skater at the event, Sarah Johnson, did not fare so well.
Tamsyn Pack and Richard Boaden are ecstatic after winning their medal in the primary ice dance championship partly because it makes up for the misery they suffered in the novice championship earlier this year. A back injury meant Richard was not strong enough to lift Tamsyn which resulted in a bad fall during their free dance and saw them finish last of the five entrants. But their disaster allowed two other club members, Rebecca Forsyth and Christopher Hockaday, to win bronze instead.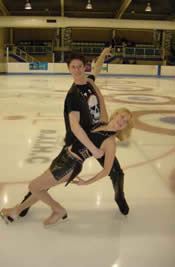 The other bronze medal was won by Kira Geil and Andrew Smykowski who had gone to the junior championship with the aim of winning gold and had spent the previous five weeks training at the new Sheffield rink - where the championships were held - with top coach, Jimmy Young, who had coached David Phillips, one of their Bracknell coaches.
Although they skated very well throughout, were placed first by two judges and scored their highest ever marks in the free dance, they did not manage to finish above third out of six in any of the sections - compulsories, original dance and free dance. The medal was a third junior bronze for Andrew who came third last year with Kira and third the previous year with former partner Joanna May. Andrew and Kira had hoped to win the event this year after last year's winners moved up to senior level. Instead it was won by the couple who came second last year and the Bracknell couple were also beaten by a new partnership of two very experienced skaters.
" We skated really well and got very good marks. It was a very good competition," Andrew said. "Obviously we would have been more chuffed if we had got a higher medal but the top three was really close and there was a big gap between us and the rest."
David Phillips and his wife, Lucine Chakmakjian, who coach both couples, are delighted that both won medals but they are particularly thrilled for Tamsyn and Richard.
Not only was Tamsyn, 13, the youngest competitor in the competition, but she and Richard, 15, had prepared so well that they were very relaxed when they stepped on to the ice for the first compulsory dance. They came joint third in the compulsories and third in the free dance out of six couples.
" They really excelled in the free dance and three judges put them in first place," David said. "They did themselves, their coaches and the club proud. No one could have asked more of them. They did everything you could wish for."
But the couple, whose training schedule includes a 3.30am start at weekends, hardly had time to celebrate. They were back on the ice at Bracknell at 5.30am the next day to prepare for the pantomime. And Richard had to sit four mock GCSEs when he returned to school on the Monday.
Although they have not made plans for next season, they will be hoping to gain selection to the British Development Squad along with Rebecca and Christopher.
Meanwhile Andrew and Kira, who have represented Great Britain in internationals as members of the British Junior Squad, are set to continue training at Sheffield in preparation for next year's senior dance championship.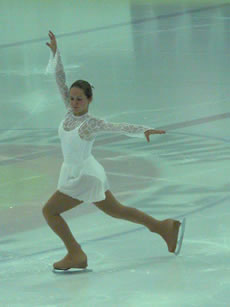 Sarah Johnson, 18, had already decided to quit competitive skating next year before she competed in the junior ladies' championship. She finished last of 12 entrants having come 12th in the short technical programme and 11th in the long. Although she would have preferred not to have been last, she was pleased to have qualified for the final by coming 7th out of 18 in the qualifying competition. Her final placing this year is better than two years ago when she came 15th out of 18.
Page
1
-
2
-
3
-
4
- Click the number to go to the page