Bracknell Ice Skating Club Newsletter - June 2004
BISC Skaters Gain Good Results in Opens
Deeside — Dance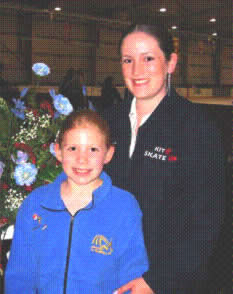 Two more BISC members qualified for the solo dance championship when they competed at Deeside on May 10. It brought the total to 11 as BISC members declined to travel to Dumfries for the final qualifier.
Hayley Salmon
, who is not nine until September, is expected to be the youngest competitor in the championships at iceSheffield in July after taking the top qualifying place at Deeside where she came 4th in the compulsory, 7th in the original dance and 7th overall in the novice section.
Sara Holroyd
, 17, who only passed her Level 7 compulsory dance test five days earlier and had very little time to prepare an OD, for what was her only qualifying competition this year, won her place in the intermediate championship final when she came 6th in the compulsory, 7th in the OD and 6th overall out of 9.
Sadly
Jen Truby
, 15, just failed to qualify again when she came (12th, 12th) 12th overall of 13 in the junior section.
Helen Ingram
, 14, who had already qualified in the junior section, skated her best ever rocker foxtrot and came (3rd, 5th) 4th.
The club's two primary dance couples took a step closer to qualifying for this year's championship too.
Tamsyn Pack
, 14, and
Richard Boaden
, 16, won the primary qualifying competition with
Rebecca Forsyth
, 13, and
Christopher Hockaday
, 15, who had suspected glandular fever, taking second place. Both couples have to do one more qualifying competition.
Gillingham - Free
Just three BISC members competed in this event on May 24-25.
Sally Anne Adams
, 10, who skated very well, came joint 4th of 6 in the Level 1 girls class on the first day
Competing in the Level 4/5 girls class on the second day,
Bethany Jarvis
, 11, came 3rd of 5 while
David Truby
, 13, who failed to land two of his double jumps, came 1st of 2 in the Level 4/5 boys class.
Milton Keynes - Free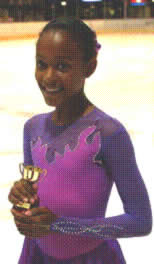 Again only three BISC free skaters competed in the Milton Keynes Open on June 14-16.
Olivia Wessendorf
, 11, who has been improving consistently since her first Open in February, won her first Open medal when she came 3rd out of 6 in the girls' Under Level 1, 11 years and over, class.
Charlotte Hester
, 12, and
David Truby
, 13, had an excellent result in their Novice Pairs competition. Not only did they win gold but they beat a Milton Keynes couple who had beaten them at the Novice Championship in January and with whom they had tied for first place at the Bracknell Open in April.
Deeside Open - Free
Despite a bad hip injury which prevented him from doing any triple jumps, the quality of his skating still earned
Simon Waller
, 17, first place from one judge in the short programme at Deeside on June 19 in the qualifying competition for the junior British championship. Not surprisingly he finished second overall of the two competitors. He has to do just one more qualifying competition.
Tamsyn Pack Talks About Her Radio Interview
"Richard and I went to BBC Radio Berkshire (in Caversham) on Sunday, May 30 for a radio interview about our skating. We arrived at the studio at 9:45am and had to sign in and get special visitor passes. We were collected and taken into a studio where we were interviewed and our parents had to leave us and go to another room. The studio had a web cam which was displayed on their website. The interview was about 20 minutes long and we really enjoyed it. Richard and I were very scared when we were both about to go on air but the person who interviewed us, Maggie Philbin (ex BBC TV presenter from Tomorrow's World) made us feel relaxed and less nervous.
The room was fairly small with some desks with lots of expensive looking equipment packed on them. When we were being interviewed we had a microphone each and our sound was monitored at the start just to check whether we were too loud or quiet. There was a countdown for us to come on air and Richard and I were both very nervous as we didn't know what she was going to ask us as it was live.
Throughout the interview there were some short breaks for us when songs were played or where there were news updates. Maggie asked us a few more questions in advance so we could be fairly prepared. Some of the questions we were asked were how many hours a week do we train for?, do we get on?, how did we get into skating?, what's it like representing your country? How much do outfits cost? etc…
At the end of the interview Maggie asked us if we would come back to update them on our progress at the end of the season."
Page
1
-
2
-
3
-
4
- Click the number to go to the page