Bracknell Ice Skating Club Newsletter - October 2003
Adults Triumph at Championship
Eight older BISC members excelled themselves at the second British Adult Ice Skating Championships at the new National Figure Skating Centre at Sheffield on September 28 when they won four medals - a gold, silver and two bronze.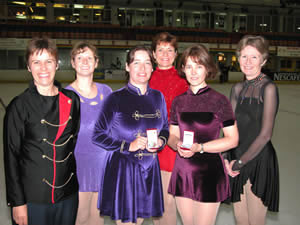 The Bracknell contingent was one of the largest at the event where one of the most exciting competitions was the Level 4 and under dance in which there were four BISC competitors.
Three skaters - Bracknell's Carol Stedham and Viv Coene and one from Basingstoke - were in joint 1st place with Sue Truby, 4th, and Gail Tudor, 5th, at the end of the compulsory dances in the morning. They then had to wait six hours for the original dance section in which Gail, who was drawn to skate first, had one of her best ever skates and won the section. Carol was joint 2nd, Sue, 4th, and Viv, 5th. This made Carol the joint winner with Gail, 3rd, Viv, 4th, and Sue, 5th, overall out of 5. The result was all the more pleasing for the Bracknell skaters as Carol, Gail and Sue have only passed their Level 2 tests and Viv has passed Level 3.
The other four Bracknell skaters competed in the elementary free skating competitions. Nicki Torrington came 5th of 6 in the 18-35 age group; Rachel Jarvis won silver and Lesley Brenikov came 7th of 7 in the 36-45 group; and Val Toeman came 3rd of 4 in the 46-56 group. The outcome was particularly good for Bracknell as the event was aimed at skaters who had passed tests up to Level 4 whereas Lesley and Nicki are Level 1 and Rachel and Val are Level 2.
The BISC skaters travelled to Sheffield with three supporters. "We had a great weekend and enjoyed a lovely meal together on Saturday evening at the hotel and supported each other throughout the day," Gail said. "We were all extremely impressed with the facilities at Sheffield - especially the lovely bar area overlooking both ice pads which had very comfy sofas and excellent food at very reasonable prices. "The only down side for the dancers was to do with the organisation of the competition which meant we were almost first to skate at 8.45am but did not get to skate our original dances until 3.40pm and had to stay until after 8pm for presentations. However we all had a great time and are looking forward to next year!"
SSJ gives club members chance to shine
Only 29 skaters took part in the club's Spin, Spiral/Step, Jump competition on October 1 but while the event may have lacked quantity, it certainly had quality.
There were some very good performances from those at the beginner end of the ladder as well as those higher up. And it gave a chance for those new to the sport to demonstrate their basic free skating elements in front of a friendly audience and judges as a step towards competing in Opens.
Unlike previous years, when there have been two rounds of the competition leading to selection of the most improved skater, there is now just one event per year. The improver title will be decided following recommendations by the coaches.
Results: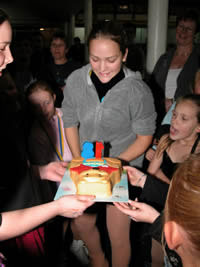 Under Level 1 (upright spin, forward spiral, three jump),
aged 9 and under : Hayley Salmon, 1st, Rhiannon Bailey, 2nd, Sophie Torrington, 3rd, Melissa Dron, 4th, Kali Turner, 5th, Harvey Clarke, 6th, Abigail Hurst, 7th;
aged 10 and over: Amy Barnes, 1st, Kristian Callaghan, 2nd.
Level 1 (upright spin, backward spiral and toe-loop): James Bailey, 1st, Jen Truby, 2nd, Holly Jordan, 3rd, Emily Kellas, 4th, Claire Minchinton, 5th, Sam Heathcote, 6th.
Level 2/3 (sit spin, straight-line step sequence, lutz): Hannah Hetebrij, 1st, Christina Keating, 2nd, Jessica Ledermann, 3rd, Rachel Kellas, 4th, Hannah Connor, 5th, Olivia Clarke, 6th.
Level 4/5 (change of position spin, circular step sequence, axel): Chris Kerr, 1st, Cara Rogers, 2nd, Laura Connor, 3rd, Eleanor Jarvis, 4th.
Level 6 and over (flying spin, serpentine step sequence, double toe-loop or double salchow): Charlotte Hester, 1st.
Level 8 and over (combination spin, step sequence, double flip or double loop): Simon Waller, 1st, Sarah Johnson, 2nd, Taryn Dennison, 3rd.
There can be few BISC members more keen to compete than Sarah Johnson. The club's top female free skater chose to spend her 18th birthday at the rink taking part in the club's elements competition. At least she had plenty of helpers when it came to blowing out the candles … and eating the cake!
Page
1
-
2
-
3
-
4
- Click the number to go to the page