Bracknell Ice Skating Club Newsletter - January 2004
Five Members Head for Novice Championships
Bracknell Ice Skating Club is delighted that its members will be competing in the solo, pairs and dance sections at this year's British Novice Championships.
It has had dance couples at the past two events and an entry in the pairs championship last year. But it is three years since any solo skaters have qualified - Carolyn Pakuls and Jenny Robinson competed in 2001 along with Simon Waller who remains the only club member to have competed in the novice boys event.
Rebecca Forsyth, 12, who has been skating for less than four years, and her partner Christopher Hockaday, 15, will be going all out to win gold in the dance championship (where there are only two entries) after scooping the bronze medal last year when they had been skating together for just 11 weeks. Chris also won the primary men's solo ice dance championship and Rebecca won silver in the novice ladies' event. They are coached by David Phillips and Lucine Chakmakjian although Chris has individual dance and free skating lessons at Slough.
Meanwhile Tamsyn Pack and Richard Boaden, who competed in the novice dance championship in 2002 and 2003, have now moved up to primary level and won the bronze medal at the primary championship in December.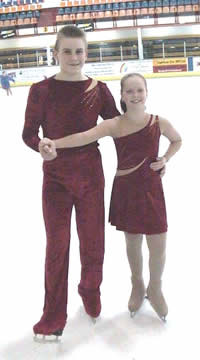 Carrying the Bracknell flag in the pairs championship this year are Charlotte Hester, 11, and David Truby, 13.
Charlotte has been skating for four and a half years and has passed her Level 6 free skating tests and inter-silver field moves as well as Level 4 compulsory and free dance. David started skating about three and a half years ago and has passed his Level 4 elements and free skating plus inter-bronze field moves tests.
The couple began skating together last Easter and, coached by Marcin Glowacki, passed their Novice Competitive Pairs test in September. The championship will be their first pairs' competition.
Seren and Luc Tudor, who did well to come 6th out of 12 at last year's novice pairs championship, have decided not to compete this year because it clashes with Luc going on a school exchange visit to Spain
Claire Miller, 12, will be competing in the girls figure skating championship.
Claire, who has been skating since she was four, passed the second part of her Novice Competitive figure skating test last year and has also passed Level 6 dance tests. She is coached in free skating at Basingstoke by Fiona Allen and in dance at Bracknell by David Phillips. She also hopes to qualify for the primary solo ice dance championship this summer and find a dance partner.
The club hopes members will attend the championships to cheer on our skaters.
New Activities For Friday Sessions
The club is introducing a new series of activities for the extra half-hour of ice it gained on Friday evenings in September when it lost 1.5 hours of ice on Tuesday and Thursdays.
The period from 5.15-5.45pm on Fridays has been used by the synchro teams as extra practice time in preparation for this month's synchro championships.
Until Easter, when the situation is reviewed, there will be a weekly rota of four different activities-compulsory dances, stroking, synchro development and Annie's Edges.
The sessions are open to all club members, whatever their age or ability. However it will be assumed that skaters know the steps of the compulsory dances for which there will be a different selection each time (details will be posted in advance on the club noticeboard). Both solo skaters and couples are welcome and skaters will be able to dance with coaches.
The synchro development sessions are open to anyone who wants to try this team sport, either just for fun or with a view to joining the synchro teams.
Annie's Edges and stroking sessions are important for any skater as they help improve overall skating technique as well as posture, style, strength and speed.
Skaters will need to pay at reception for a half-hour of club ice and pay £1 at rinkside to cover the cost of coaching.
Page
1
-
2
-
3
-
4
- Click the number to go to the page