Bracknell Ice Skating Club Newsletter - February 2004
Dancers Show Off Their Steps In Smooth-Running Competition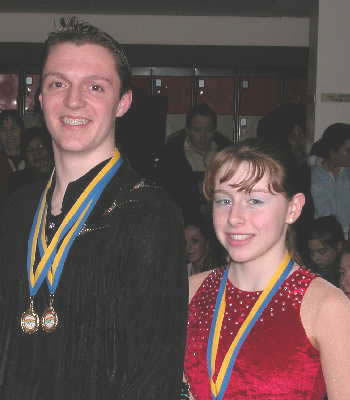 BISC's dance competition on February 27 ran like clockwork despite a judge pulling out at almost the last moment, fears that forecast snow would make skaters late again and that the event would over-run because of the tight scheduling.
Instead a good time was had by all as 21 skaters made up 39 entries in the six compulsory and four original dance classes.
Pat Watson regretfully had to withdraw as a judge when her husband, Paul, was rushed into hospital. But the problem was overcome when club members took it in turn to judge the classes they were not involved in alongside the two NISA judges, Jane Brown and Ted Mills.
Thanks to an eight-minute ice cut, the event was able to start five minutes early … and finished exactly on time with some very high standards of dance displayed in between.
Again it was particularly interesting to see the progress made by skaters who had taken up dance after having concentrated on free skating. And it was good to see several new faces in the novice classes.
Results:
Compulsory dances: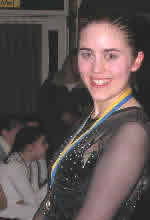 Novice (fiesta tango):
Eleanor Jarvis, 1st, Sadie Robbins, 2nd, Hayley Salmon, 3rd, Rachel Kellas, 4th, Deanna Hockaday, 5th, Jake opden Brouw, 6th, Stephanie Francis, 7th, Rebecca Loades-Bannon, 8th, Dannielle Morris, 9th, Amy Barnes, 10th.
Under Level 3 (rhythm blues and Dutch waltz):
Hannah Hetebrij, Eleanor Jarvis, Rachel Kellas, joint 1st.Primary, foxtrot: Rebecca Forsyth, 1st, Claire Miller, 2nd, Charlotte Hester, 3rd.
Junior (rocker foxtrot):
Christopher Hockaday, 1st, Jen Truby, 2nd, Olivia Dick, 3rd.
Intermediate (silver samba):
Richard Boaden, 1st, Jen Truby, 2nd, Charlotte Hester, 3rd, Leah Rogers, 4th, Michelle Bannister, 5th, Taryn Dennison, 6th.
Senior (Argentine tango):
Michelle Bannister, 1st, Jen Truby, 2nd.
Original dances:
Novice (march):
Deanna Hockaday, 1st, Sadie Robbins, 2nd, Hayley Salmon, 3rd.
Primary (rock and roll):
Rebecca Forsyth, 1st, Claire Miller, 2nd, Charlotte Hester, 3rd.
Junior (tango):
Jen Truby, 1st, Olivia Dick, 2nd.
Intermediate (paso doble):
Richard Boaden, 1st, Michelle Bannister, 2nd,Leah Rogers, 3rd, Taryn Dennison, 4th.
Show The World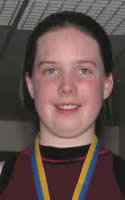 BISC's much admired and praised website is expanding even further with the introduction of a photo gallery of our skaters.

Now any club member can be a star by submitting one or two photos of their choice — preferably an action shot and a head and shoulders— plus up to 200 words about themselves and their skating.

This could include details about how long they have skated, what sort of skating they do, how often they skate and who their coach is. They might want to state which competitions they have entered or medals and trophies they have won and tests they have passed, and what their aims are for the future.

They are also welcome to give information about their likes and dislikes—perhaps their favourite and worst lessons, favourite food or colour or pop group, etc, and about out of school interests … particularly if they are unusual!

The club reserves the right to edit any material provided. If skaters are under 16, they must also include written consent from a parent or guardian (see photo consent form on website).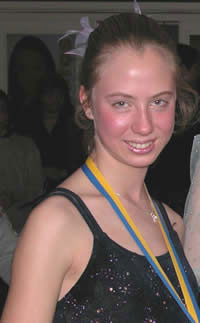 Details and photos can be emailed to Scott Waller at newsdesk_scott @yahoo.co.uk or left at the club table or rink reception for the publicity section of the club folder.


Open Season
Five Bracknell free skaters got the Open season off to an early start when they travelled to Bristol on February 25.
Olivia Wessendorf, competing in her first Open, came 5th out of 7 in the beginner class for girls aged 11 and under while Sally Ann Adams came 6th out of 6 in the Level 1 class for girls of the same age.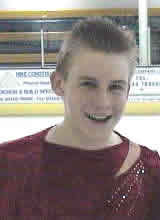 Hannah Hetebrij came 12th out of 17 in the Level 2/3 class for girls aged 12 and over; David Truby won silver when he came 2nd out of 4 in the Level 4 boys class; and Leah Rogers came 5th out of 7 in the Novice Ladies class.
Late Ice Changes
The system to alert patch and club ice users to late changes in ice availability has now been set up.
Any club member who wants to be alerted to sudden changes (especially any changes which occur overnight) should submit their mobile phone number and £1 which will cover costs for the foreseeable future (at 10p a time).
Please give your details, and cash, to Scott Waller (or leave them at the club table or rink reception for the publicity section of the club folder) and they will be passed onto rink management at the end of March.
A pre-recorded text message stating "No Ice" will be sent to subscribers should the situation arise.
Page
1
-
2
-
3
-
4
- Click the number to go to the page