Bracknell Ice Skating Club Newsletter - September 2003
Gala night honour for Sara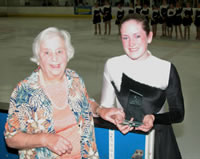 A 16-year-old stalwart of BISC's synchronised skating squad has become the first winner of a trophy donated in memory of a popular former team member.
Jenna Matlay was killed in a car crash in London in October 2001, aged 21. She had skated in Bracknell's highly successful Ice Precise and Ice Metrics teams for several years after they started in the mid 1990s and continued skating with the junior team until she moved from the Bracknell area when she was 18. She was also a very talented ice dancer, having reached silver test standard. The memorial trophy was donated by her grandmother, Betty Gee, who travelled from Kent, with Jenna's aunt, on September 17 to present it for the first time.
The presentation to Sara Holroyd was made during the club's annual gala and proved a very emotional occasion … and a total surprise to Sara. She had been told to be reserve, not a place she usually has, for the club's new Ice Crystals team and could not understand why she was called on to the ice after the team had skated.
"It was an enormous surprise, a real shock but a very nice one," she said. "I feel very honoured to be the first person to win it but it was a very emotional event."
Sara, also an accomplished ice dancer, joined the novice Ice Precise team nearly six years ago when Jenna was with Ice Metrics. She later skated in both teams and has been with Ice Metrics since she became too old for the novice team. She has won several British Championship medals and competed in a lot of internationals with the Bracknell teams, including the Junior World Cup, and competed with the British team in this year's Senior World Cup. She has also helped coach Bracknell's synchro development squad and the newly reformed Ice Precise.
"Sara is a girl who loves synchro skating and has always been a perfect role model," said David Phillips who coaches the Bracknell teams with his wife, Lucine. "She is outstanding as a person and I would rank her as one of the best synchro skaters in the country. She really deserves to win this award."
Presentations of £50 towards training expenses were made by club chairman, Roy Welham, to members who had competed in this year's novice championships - pairs skaters, Seren and Luc Tudor, and ice dancers, Tamsyn Pack and Richard Boaden, and Rebecca Forsyth.
The gala, which ran from 6.15-8pm, included every type of skating undertaken by club members and was representative of all members' ages and abilities from basic free skating elements by Rhiannon Bailey (6) and Harvey Clarke (5) to compulsory dances by John Baster, who has retired, and his skating partner Carole Doran.
The show was opened by free skater Sarah Johnson and included free skating solos by David Truby, Taryn Dennison, Olivia Clarke, Charlotte Hester and Simon Waller, pairs free skating by Seren and Luc Tudor, artistic solos by Holly Kirkbride and Leah Rogers, group artistics by Laura Hartley, Hannah Hetebrij, Chris Kerr and Robyn
(continued on page 2)
Page
1
-
2
-
3
-
4
- Click the number to go to the page