BISC MAY/JUNE HALF TERM 2011
IJS ICE SKATE CAMP - MONDAY 30th MAY to FRIDAY 3rd JUNE
<![if !vml]>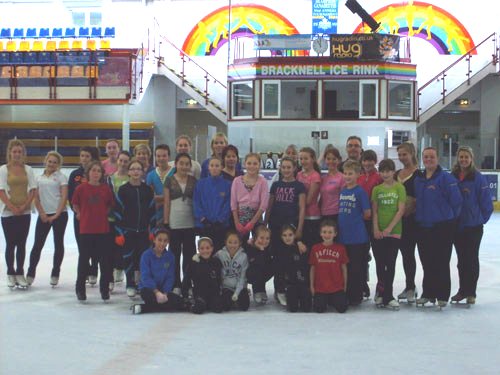 <![endif]>
2011 Free Skating Group with Guest Coaches: Simon & Debi Briggs
During the May/June half term holiday both our Free and Ice Dance skaters (solo &couples) at Bracknell experienced a whole week of on-ice and off-ice activities as well as IJS specific seminars.  Sessions were tailored to meet the needs of individual participants with everyone achieving something new making them feel good about themselves and motivating them to do even better!
Monday through to Wednesday Simon & Debi Briggs worked on Edges, Steps, Jumps and Spins with assistance from Emma, Stacey, Laura and Chris.  Children loved their analagies, in particular "a fireman's pole" and "two glasses of orange juice on the hips" were mentioned on several occasions throughout the camp!
Simon & Debi both coach Matthew Parr who has twice won the British Men's Championship.  In addition, Simon & Debi have coached many other British champions and skaters to European, Worlds and Olympic games.  Simon is one of the world's leading Technical Specialists and is NISA's Coaching Director.
<![if !vml]>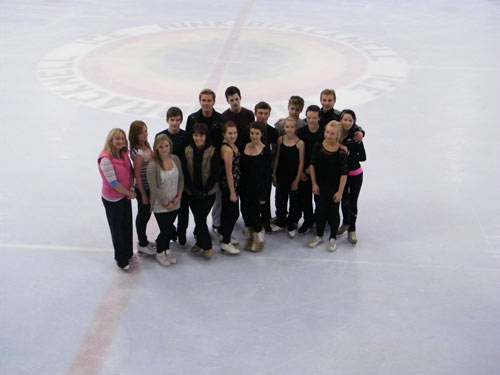 <![endif]>
2011 Couples Ice Dance Group with Guest Coaches: Pippa Towler-Green, Fiona Zaldua & Dmitri Sukhanov
On Thursday it was our ice dance couples turn who received expert tuition from Pippa Towler-Green who up until recently partnered with our own ice dance coach, Phillip Poole.  Pippa and Phillip guided the couples through Basics/Edges & Steps as well as Compulsories and Spins with assistance being provided by Natasha Moody.
Pippa and Phillip began their partnership in 2003 and captured the silver medal at the British Ice Figure and Dance Championships for four consecutive years. They also represented Great Britain at the 2006, 7 and 8 European Championships and The 2009 LA World Championships.
In addition to Pippa and Phillip the couples were also provided with both on-ice and off-ice expert lift technique by Fiona Zaldua & Dmitri Sukhanov.  They were first taken through key steps, turns, and the importance of movement of weight before attempting different types of lifts off ice which was then put into practice on ice.
Fiona & Dmitri are famous for leaving entire audiences breathless with their spectacular lifts and great acrobatic skills!
<![if !vml]>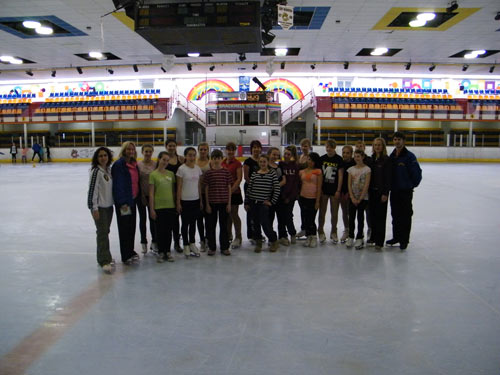 <![endif]>
2011 Solo Ice Dance Group with Guest Coach: Helen Prior
Friday's masterclass was focussed on our solo ice dance skaters who thoroughly enjoyed their day of expert tuition from Helen Prior who is not only a UK Technical Specialist but also an International Technical Specialist.  Helen was keenly assisted by our own Bracknell ice dance coaches Natasha, Lucine and Chris.
In addition, everyone enjoyed the IJS presentations given by Simon at the Free Camp and Helen at the Ice Dance camps.  They were extremely useful and informative and as we all know our children love the fact that they know far more about this subject than us parents!
All skaters also benefited from the off-ice strength & conditioning classes as well as the street dance, ballet & posture classes which Lewis Hakesley and Danni Wilson provided every day.  They were all challenged but at the same time had fun which is what it's all about!  They have certainly taken away with them a better understanding of how dance, fitness and musical interpretation plays a huge part in their skating progress.
We hope to see more skaters attending BISC's off-ice jumps, fitness and dance classes.  Danni runs the new Sunday flex & stretch/dance sessions (10.00 – 11.30) at Bracknell and there is a Pilates class on Saturday mornings (8.00 – 9.00).  Also, don't forget that every Tuesday club night there are half hour off-ice jumps & fitness classes with Laura Lewis running free of charge courtesy of BISC – just visit http://www.bracknell-ice-skating-club.co.uk/Fitness&Dance/default.html for uptodate information.
On behalf of everyone on the BISC Committee we would like to extend our sincere thanks to all our guest coaches, off-ice instructors, Bracknell's ice skating coaches and John Nike Leisure staff for their invaluable contribution to making our week-long camp such a success.  In particular we would also like to thank Sandra Bland, Karen Clarke, Debbie Stevens and their team of supporters for organising this camp which was this year heavily subsidised financially by BISC.  We are all really lucky to have a Club that is able to support such an extensive training/development opportunity so a big thank you also to BISC for their very generous contribution!