BISC Archives News 2012
*** This page is mainly for ad-hoc news items and One liner & brief news items.
[Added 10th December 2012] CONGRATULATIONS TO DARIA CHERNOVOLENKO
BISC is delighted to announce in addition to Grace Boland, Bethany Armitage and Jack Osman who recently qualified for the NISA Development Team, Daria Chernovolenko also attained the appropriate skating levels to qualify for the NISA National Development Team 2012-13.
Daria is 7 years old and coached by Alex Verkovitch who was recently awarded NISA Level 4 Coaching status. Congratulations to them both!
BISC
[Added 18th November 2012] Bracknell 2013 Open competitions
Subject to the necessary NISA approval the Bracknell 2013 Open competitions are provisionally scheduled to take place as follows:
Monday April 22nd morning Adult Solo and Couples Dance (IJS)
afternoon Adults Singles (IJS)
PLEASE NOTE THERE WILL BE NO EXHIBITION, ARTISTIC OR INTERPRETIVE CLASSES
Tuesday April 23rd and Wednesday April 24th Solo dance series (IJS)
Couples dance (IJS)
Thursday April 25th and Friday April 26th Beginner singles (RJS)
Level 1 -10 singles (IJS)
PLEASE NOTE THERE WILL BE NO EXHIBITION OR ARTISTIC CLASSES
BISC
[Added 4th September 2012] TUESDAY & THURSDAY CLUB NIGHTS / SCHEDULE UPDATE - SEPTEMBER to DECEMBER 2012
Please note that there is no BISC group lessons on Tuesday and Thursday club nights until the New Year due to Gala and Panto rehearsals. See schedule below for easy reference.
TUESDAYS
04/09/2012 PATCH/PRACTICE & PRIVATE LESSONS
11/09/2012 GALA REHEARSALS & PANTO REGISTRATION
18/09/2012 GALA REHEARSALS
25/09/2012 GALA REHEARSALS
02/10/2012 PANTO REHEARSALS
09/10/2012 PANTO REHEARSALS
16/10/2012 BISC SPIN SPIRAL JUMP COMPETITON
23/10/2012 PANTO REHEARSALS
29/10-02/11 HALF TERM
THURSDAYS
06/09/2012 PATCH/PRACTICE & PRIVATE LESSONS
13/09/2012 GALA REHEARSALS
20/09/2012 GALA REHEARSALS
27/09/2012 GALA REHEARSALS
04/10/2012 PANTO REHEARSALS
11/10/2012 PANTO REHEARSALS
18/10/2012 PANTO REHEARSALS
25/10/2012 PANTO REHEARSALS
29/10-02/11 HALF TERM
BISC
[Added 3rd May 2012] NTC Rehearsals & Cancellation of Club Lessons
NTC Rehearsals & Cancellation of Club Lessons NTC Show number rehearsals start tonight during club ice 5 - 6 pm, they then take place alternate Tuesdays and Thursdays until early July.
There are no club lessons on evenings when there is a rehearsal. Please check the BISC website for the full club/NTC schedule.
We apologise for any inconvenience this may cause.
Thank You BISC
[Added 27th April 2012]

SUCCESS FOR BISC SKATERS AT IJS EVENT LEE VALLEY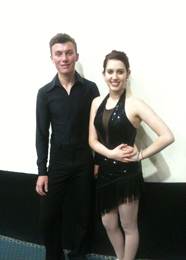 Congratulations to following BISC Members who competed in the IJS event at Lee Valley recently, all of whom gained the competitive test marks in their respective categories – well done!!
ADVANCED NOVICE COUPLES – ICE DANCE
Olivia Clarke & William Norcliffe-Brown comfortably secured a total of 50.47 points enabling them now to compete at Junior level in the 2012/13 season. They are hoping to qualify to compete at Junior level at the British Championships in November later this year. Both skaters are coached by Phillip Poole at Bracknell and Karen Quinn at Alexandra Palace.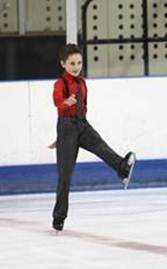 ADVANCED NOVICE MEN – FREE
Christopher Bland (right) and Patrick Sharpe achieved the Novice Competitive Test mark giving them the qualifying entry for the British Championships later this year in November. Chris achieved a personal best score of 71.54 and has moved on to the NISA International Development team. Chris now skates for Guildford and Patrick for Swindon but they are still active BISC members. Patrick's programme was choreographed by Phillip Poole at Bracknell.
[Added 25th February 2012] ** BISC LAUNCH NEW CLUB JACKET **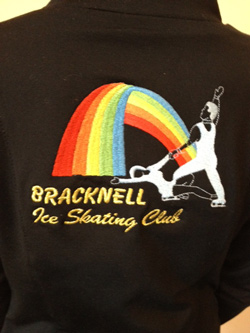 Bracknell Ice Skating Club is pleased to announce the launch of our new Club Jacket. It's sleek, light weight and breathable design is great for on and off the ice.
The jacket is available to club members. It comes in three designs. Sizes range from children to adults as well as come in semi-fitted or fitted styles.
The cost is £35.00 plus postage. You may added your name on the jacket for a small additional cost.
If you are interested please contact Mairi Shewfelt at:
Thanks
BISC
[Added 27th February 2012] NEW PERSONAL BEST FOR BRACKNELL'S SENIOR DANCE COUPLE!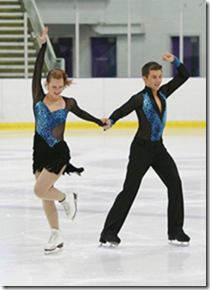 Charlotte Hester and Jordan Brown competed internationally earlier this month in the Bavarian Open Figure Skating and Ice Dance held in Oberstdorf, Germany. Coached by Phillip Poole the couple were delighted to achieve a new personal best in both their free dance and overall. They were placed 11 out of 13 with a combined score for their short and free dance total of 93.92. Charlotte and Jordan who are both 19 were particularly pleased with this result as they were competing against 2012 European skaters and a great boost to their confidence!
Last week the couple and their coach were in Sheffield with Philip Askew who is choreographing their new programme. Philip Askew is the choreographer for GB Ice Dance couple Penny Coomes and Nicholas Buckland who were placed 6th in the European Championships. Our Bracknell couple will now be training hard for the next 5/6 months for competitions starting around late August/September time and we wish them all the very best!
On an individual note congratulations go to Charlotte who has recently qualified as a NISA Level 2 coach.
[Added 16th January 2012] CLUB NIGHTS (TUES & THURS) - UPDATE FOR 2012!
BISC CLUB NIGHTS – UPDATE FOR JAN/FEB 2012

Starting this Tuesday 17th January please note that the times of the higher/lower level group lessons have swapped with each other on a Tuesday evening – see below schedule. There is also no off ice session running at 5.30pm or 6.30pm. However the Club is trying to establish a Street Dance off ice session from 6pm for one hour which hopefully will be of interest to our members. More information on this session will be sent out via Newsflash.
Unfortunately the Thursday club ice dance session on 19th January will not be running as the rink is closed during this time. However, rink management has assigned the Club a one hour patch/practice session from 7.15pm to 8.15pm on the same night so please do make use of this session time, open to all members.
The Thursday club ice dance sessions will cover the Compulsory Dances set for the British Solo Ice Dance Championships as well as teaching ice dance Poses/Attitudes and Spins.
TUESDAY – FIGURE (Jumps, Spins, Tricks, Power, Annie's Edges)
As a reminder skaters must have passed either Elements or Free in their respective level and not be working towards it in order to go into the correct group ie: if you have passed L3 Elements or Free then you are eligible to join the L3 group. Our ice coaches will at their discretion merge groups if numbers are too low but this shall not be at the detriment to higher level skaters.
Dependent on numbers of members attending will dictate what the ice coaches will teach but we are hoping that these group lessons will include jumps & spins and incorporate once a month some ice skating 'tricks' as well as some power/edge sessions.
BISC will, of course, continue to monitor the number of members attending each week and amend the groups accordingly to help ensure everyone receives high quality group coaching. Should you have any comments please do not hesitate to let me know or alternatively another BISC Committee member.
5pm-5.30pm
Level 6+
Level 4 & 5
Level 2 & 3
5.30pm-6.00pm
Patch/Practice for all Levels
6.00pm-6.30pm
Level 1 & Below
6.05pm-7.05pm
Street Dance Session (to be confirmed)
THURSDAY – ICE DANCE (Compulsory Dances + Pose/Attitude & Spins)
Coaches will be teaching all the Compulsory Dances announced for the British Solo Ice Dance Competition and will also include Poses/Attitudes and Spins. Members do not necessarily need to be entering the British to participate in these sessions. Please do come along and join in if you wish to learn any of these dances taking into consideration of course the level of the dance.
5.00pm-5.30pm
(Rocker Foxtrot; Starlight Waltz, Tango, Fourteen Step, Foxtrot, European Waltz) - Novice & Below
5.30pm-6.00pm
(Westminster Waltz, Quickstep, Rhumba, Viennese Waltz, Cha Cha, Silver Samba) - Junior & Above
Finally, please remember to purchase your club group lesson tickets at reception, register your attendance on the sheet, write your name on the front of the ticket and pop it into the envelope provided prior to joining your group on the ice.
Deborah Stevens On behalf of BISC
[Added 9th February 2012] ACHIEVERS AWARDS
Presentations of Achievers Awards will take place after the Aya Jayne Artistic competition on Tuesday 21 February 2012.
The club introduced these awards last year as a means of accurately reflecting and rewarding a skater's individual improvement. Skaters will receive an Achievers Award if they have passed all the necessary tests for Free or Dance or both at certain levels. There are four levels
1. The first level of achievement is Level 1 and a Bronze medal will be awarded to successful skaters who have passed all Level 1 tests including Field Moves in either Ice Dance or Free skating
2. The second level of achievement is Level 4 and a Silver medal will be awarded to successful skaters who have passed all Level 4 tests including Field Moves in either Ice Dance or Free skating
3. The third level of achievement is Level 8 and a Gold medal will be awarded to successful skaters who have passed all Level 8 tests including Field Moves in either Ice Dance or Free skating
4. The ultimate level is Level 10 and above and any skater who has successfully achieved any of the Level 10 test categories will be presented with a Star Achievement Trophy
According to the club's records the following skaters qualify for these awards at the next presentation – if you did not receive a medal previously and should have done or your name is not on the list below then please reply to this email as soon as possible.
BISC
| | |
| --- | --- |
| LEVEL 1-3 FREE: | LEVEL 1-3 ICE DANCE: |
| Pelham Wright | Beth Madgwick |
| Ylona Wright | Laura Sabaliauskaite |
| Thomas Turner | Jenna Ford |
| Miranda Robertson | James Smith |
| Natalie Prahl | Jack Osman |
| Zina Livingstone | |
| Catriona Evans | |
| | |
| --- | --- |
| LEVEL 4-7 FREE: | LEVEL 4-7 ICE DANCE: |
| Rhiannon Bailey | Adam Batchelor |
| Yu Matsumura | Chloe Arthur |
| Charlotte Payne | Chloe Sharpe |
| Jacob Payne | Sophie Torrington |
| Callie Brown | |
| Cerys Goddard | |
| Ella Rhodes | |
| | |
| --- | --- |
| LEVEL 8+ FREE: | LEVEL 8+ ICE DANCE: |
| Christopher Bland | Charlotte Hester (L10 FM) |
| Laura Crawford | |
| Patrick Sharpe | Level 10+ Achievers Trophy |
| | Charlotte Hester |
[Added 15th January 2012] LEVEL 2 COACH SUCCESS!
Many congratulations to Bracknell club member Paul Dredge who has now qualified as Level 2 NISA coach.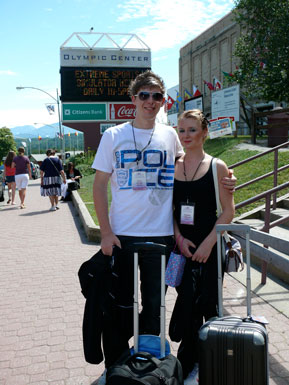 Paul a former pupil of David Phillips and Lucine Chakmajkian now trains and competes with Ice Dance partner Danielle Calthorpe in the USA but has recently had to undergo major surgery for a knee injury sustained during a competition.
Fortunately Paul's knee is on the mend and he returned to the States last week to continue his training.
Paul has no immediate plans to coach but is always keen to help out at Bracknell when he is back in the UK and is a familar face at Friday synchro practice."
[Added 4th December 2012] 2012 DIARY DATES + BISC NEW YEAR PARTY REMINDER!
Please see list of upcoming ice skating events throughout 2012 which hopefully are correct as of today's date.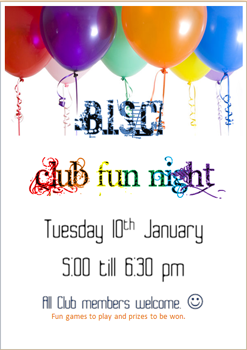 Also, just a reminder to all members that BISC's Club Nights
start up again next week with a New Year Party on ice being arranged by the Club's Junior Reps – Jenna Ford and Chloe Sharpe.
This event is to be held on TUESDAY 10th JANUARY,
5pm-6.30pm and will include lots of fun and games so do come along and support the girls with their first event of the
New Year!
Deborah Stevens On behalf of BISC
[Added 11th January 2012] CLOSURE OF BRISTOL ICE RINK - SUPPORT FOR NEW RINK NEEDED
Unfortunately JNL Bristol ice rink is to close as its lease is about to expire and the leaseholders wish to build housing on this site.
Although friends and skaters at the rink knew this would happen at some time they very much want to see Ice Sports continue at Bristol. Their goal now is for British City Council to grant permission for a new rink to be built. Please see the links below re the closure and a website petition. We would ask our members to sign this petition for a new ice rink in the South West – our fellow ice and hockey skaters need our support!
http://www.bristolneedsarink.com/
http://www.thepetitionsite.com/1/save-the-ice-rink/
BISC
[Added 4th January 2012] NISA TEST APPLICATION FORM - CHANGES
Please find (Click here for NISA form) the new NISA Test Application Form.
Please start using this form with immediate effect to avoid disappointment as the old forms may be rejected.
The Compulsory Dance section has been renamed Pattern Dance. I am informed that only the name has changed and that the judges test papers will not be changed at this time.
You will also notice that the wording has changed for the 'Name of Partner' section. This is because, where it says partner on the form, some skaters think it means other than the coach and so the form now has the choice of 'solo or name of partner' to stop any more confusions.
Anna Bradley
NISA Test Organiser
[Added 12th December] CARDIFF OPEN 2012
Please find attached the entry form, rules and criteria for Cardiff Open 2012.